Post by howie1 on Jun 11, 2019 23:00:22 GMT
An interesting way to do DSO's. Not "live" VA, Near-Real_time_observing, or whatever you want to call it, but still an interesting way to image.
I knew lucky imaging was how people get those sharp images of planets, but came across this guy on Astrobin who uses it for DSO's. For anyone reading this who doesn't know the term lucky imaging, it is shooting a video at many frames per second, then using planetary software such as Registax or Autostakkart both of which analyse each individual frame in the video. Due to atmospheric air currents and other aberations in clarity of the sky, there are occaisional fleeting moments of clarity in some sub-second frames of video, or in some cases just in some part of each frame of the video. So every frame is analysed for sharpness of pixels and other stuff. Basically it "grades" each individual frame so that the user can then manually or (usually) automatically select the best N% of them to stack. Those are the best, sharpest, most detailed frames. Some planetary stacking software will even "crop" just that part of a frame which has clarity and sharpness eliminating the fuzzy parts of the image. Once the software stacks those best N% of frames, there's usually some good sharpening algorithms and tools within the software to make the final image amazingly sharp.
However, this bloke I found on Astrobin is using the same processing workflow to shoot DSO's with amazing results. Running through various images he seems to use Firecapture to control the camera and shoot N frames of video. Then he uses PIPP (Planetary Imaging Pre-Processor software) and then Siril stacking and processing software.
The image below is a screenscrape I took of his NGC6543 image on Astrobin. You can see the text on that image says he used an ASI224MC camera and video of 95,000 frames at 300msec per frame combined with 21,600 1 second frames. Obviously not "live" VA! LOL.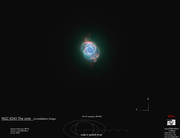 This one below is M51 and shows the Astrobin screen and details for that image. Again he has used the Firecapture, and Siril for 5,500 x 1second frames combined with 150 x 5second frames (with a filter on).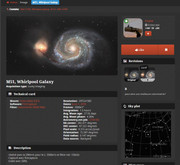 As I said ... Not "live" at the scope and definitely in the AP classification, but certainly an interesting way to do DSO's which has produced great images.